Once or twice a year, we recommend taking a close look at your fiber tools and equipment to see if anything needs a tune-up. Just a few minutes can help you spot problems before they happen, which means that your creativity doesn't have to depend on whether or not your equipment can keep up!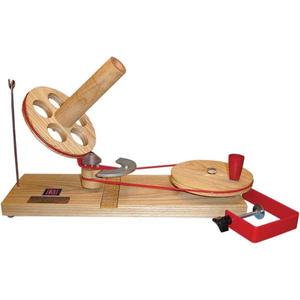 Jumbo Ball Winder
With our ball bearing design, NO oiling or adjustments are needed, but we do recommend a few simple tasks to keep your Jumbo Ball Winder in good working order.
Clean any wood parts with a soft cloth. While you clean, be on the lookout for bits of fiber which may be packed around any of the moving parts of your ball winder, especially underneath the pulley. As the photo below shows, fiber pushing against the bearing will cause the winder to bind, resulting in irregularly shaped balls.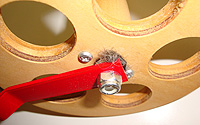 Does your drive band need to be replaced? Over time, this band will stretch out. If it's been a while since you've replaced your band (or if your balls haven't been winding as effortlessly as they should be!), try a new band. You'll be amazed at what a difference it can make! We've made it easier than ever to order replacement bands – click here for easy ordering from our new online store!
Want to make your drive band last even longer? Remove it from the machine when you are finished winding yarn rather than keeping it taut on the winder 24/7.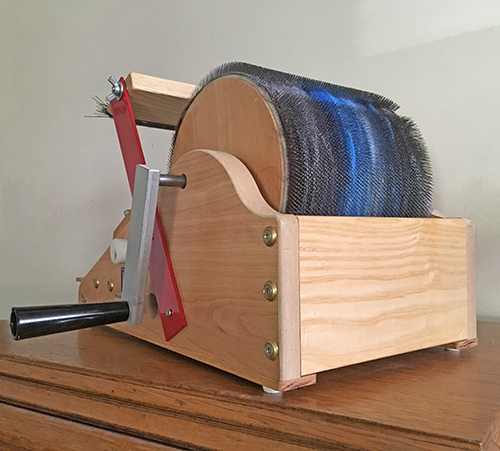 Drum Carders
In general, you won't need to oil your drum carder (oiling, and especially over-oiling, attracts
fiber and causes build-up). Should a squeak develop with the handle, apply a drop or two of
light oil (sewing machine or 20-wt. oil will do nicely) at the point where the crank shaft meets the
small end of the black handle. If you have a chain model, NEVER oil the chain.
You will need to periodically clean out any accumulated fiber from each shaft where it enters the
bearings. If this is not done from time to time, you will find that your carder becomes
increasingly hard to crank.
And, of course, you will need to use the Doffer/Cleaner Brush to remove residual fibers from the
carding drum when you are finished with a particular fiber or are ready to change colors. Use
the center portion of the Doffer brush to contact the curve of the large drum. Starting at the
seam, swipe the Doffer brush down the drum in the same direction as the teeth on the drum.
Continue across the width of the drum. Slowly rotate the drum backwards (counterclockwise) as
you use the brush to clean the entire drum of fiber. Do not brush across the drum since the card
cloth may become frayed.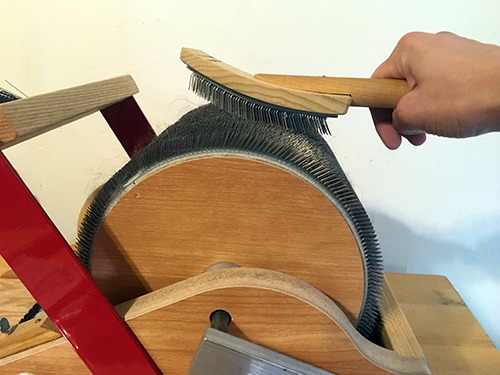 For more specific instructions for your particular model of drum carder, please refer to your operation manual (click here to download a PDF version from our site if yours has gone missing!). If you're totally new to drum carding, check out Drum Carding 101, our free PDF guide to get you started!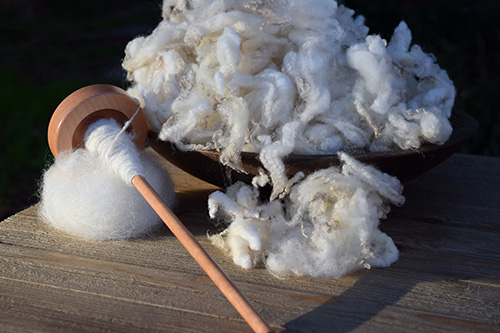 Other Equipment
There are so many tools that fiber artists rely on, from swing pickers to hand cards, drop spindles and spinning wheels, etc. Here, we'll speak in general terms, and recommend checking with the manufacturer or each tool for specific information on maintenance and repair.
If you have several hours to spend on your efforts, try collecting everything you use all in one place and going through piece by piece. If you are short on time, consider doing this process in stages which you space out over several days or weeks.
For each item, make sure it is clean – wipe it with a soft cloth, and use a mild soap to clean things as needed (provided your manufacturer guidelines say this is ok!). Lanolin and grease can sometimes be difficult to remove if it's been there a while. For wood pieces (such as the handle of a hand carder), use  rubbing alcohol to wipe the affected area, taking care not to soak the wood. Just make the rag damp and briskly wipe – you may have to do this several times to dissolve the lanolin.
If there is also lanolin in the carding cloth, lightly spray some rubbing alcohol on both pads and quickly card some clean "junk wool," which will slowly dissolve the lanolin from the pins. IMPORTANT: Do not soak the pads, this will swell the rubber backing.
Next, check any parts that move to make sure that yarn or fibers aren't stuck in there and impinging movement. You'll be surprised what can slowly build up over time without your notice! Gently remove anything that is stuck or wrapped around places where they don't belong.
Finally, make sure that you are storing your tools properly! As you accrue supplies, your craft room or storage spaces may become cluttered. The better organized you can keep everything, the better – once you start shoving things into corners or piling haphazardly in bins or on shelves, accidents are more likely to happen. Make sure that everything has a place where it can be safely stored when not in use.
As you fall into fiber this autumn, we hope these tips help you keep your favorite tools in good working order. Be sure to share your projects with us on Instagram and don't forget to tag your post with #strauchfiber!
Like this post? Pin it!