You may have heard that Joanne and I are looking for someone to take over Strauch Fiber Equipment. As we are both well past retirement age, it's time for us to slow down – but not before we find the right person to continue the Strauch legacy. We want to make sure that our customers can still enjoy the level of quality and service they have come to expect from us, well into the future.
With that in mind, we've made a list of qualities a suitable successor should have: a passion for making great products, an entrepreneurial spirit, business savvy, problem-solving skills, a "mechanical" mind, and  (of course)  a love of fiber arts!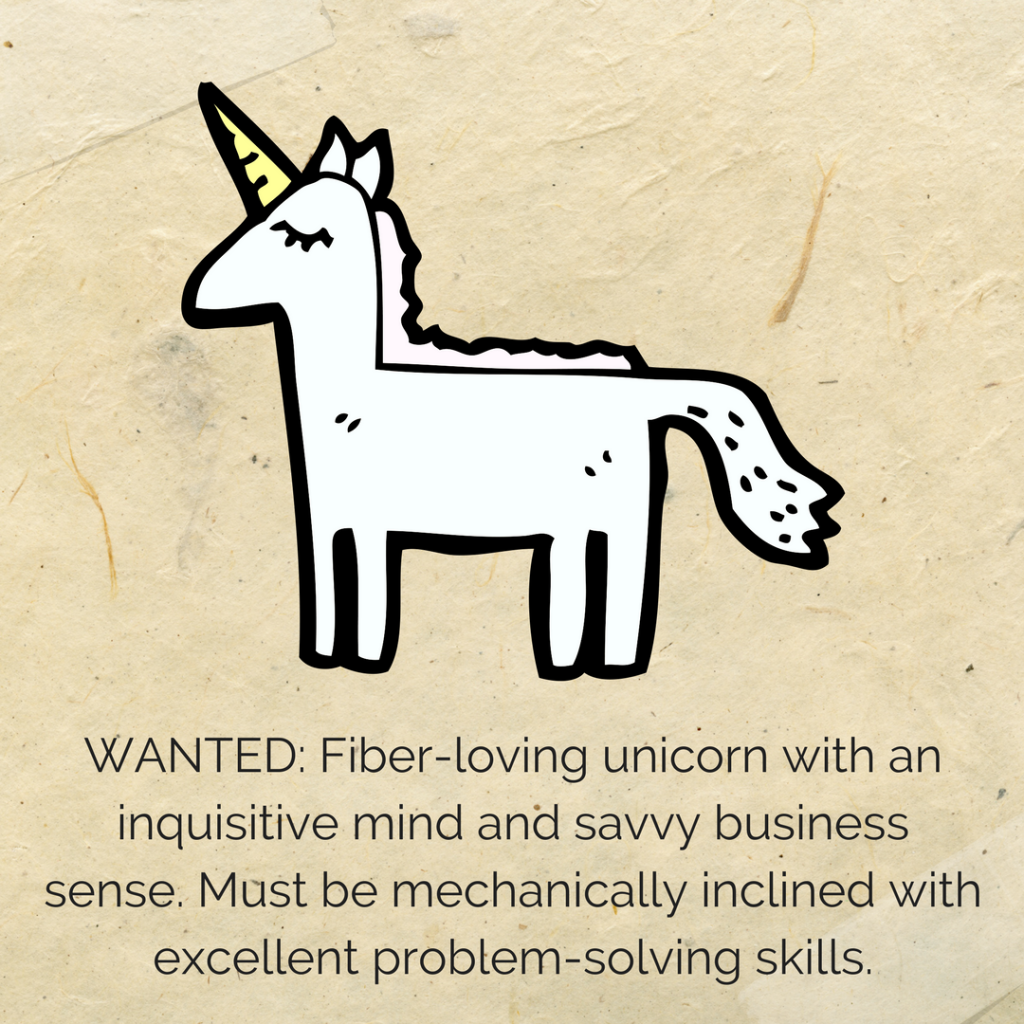 If it sounds like we are looking for a "fiber-loving unicorn" – we are! But having met so many passionate, creative, fiber-loving small business owners over the years, we are certain that the right person (or persons) is out there, just waiting to take the baton.
So, how do you know if you or someone you know is the "fiber-loving unicorn" we seek? Perhaps you can relate to our story, as told in this short video clip:
Joanne's day-to-day tasks include making
 sure the office runs smoothly while organizing the hundreds of other things that need attention every day in a small business. She also directs both the advertising programs and, through their marketing group, their social media presence.
My role in the the company is to design the product and oversee the manufacturing operation, which consists of six employees making sure the subassemblies are built to our very high standards.
We work just three days each week and have enjoyed sustainable success by keeping our company small by design. We're confident that a go-getter who is able to wear both of our hats, or a dynamic partnership who works well together would be able to jump in with both feet – and if you made it this far reading this blog entry, there's a good chance you have what it takes!
We recommend listening to this episode of the Business of Craft Podcast which interviews Garrick Arnold, an entrepreneur who recently purchased a well-known craft business called Yarn Pop, makers of canvas accessory bags made in the USA. Garrick's interview provides lots of food for thought for those of you who have a strong desire to be their own boss, but would prefer not to start a business from the ground up.
If you see us at any of our upcoming shows and events, please feel free to spend some time in our booth and ask questions about this opportunity!
You can also click here to request our Introductory Business Prospectus and be added to our list of potential buyers.
Since all of our time is devoted to running this company, we have hired a well respected and knowledgeable business broker to coordinate the search. We will continue to grow our company until a suitable successor is found.
If you know someone who is seriously interested, please have them contact: Mr. Todd Burris of Sunbelt Business Brokers at 540-392-2155 (cell) or tburris@sunbeltnetwork.com.