Have you been bitten by the spring cleaning bug? As you tidy up, don't forget about your drum carder! While our machines are designed to require little to no maintenance or adjustments over a lifetime of use, there are a few things we recommend doing regularly to ensure smooth operation. You'll need just a few supplies (and some good lighting) to get the job done!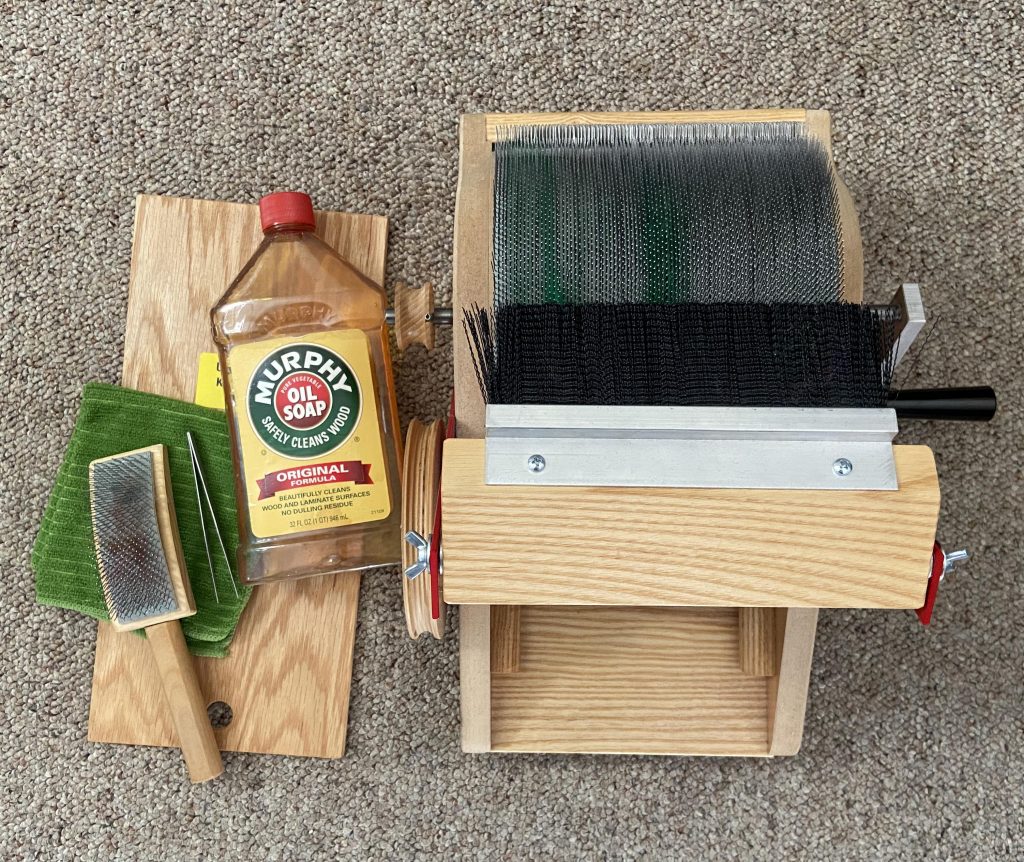 Supplies:
Doffer/Cleaner Brush
Microfiber Cloth
Wood soap or cleaning wax
Tweezers
Removing Fiber from Shafts
Fiber can accumulate on the shafts which turn both drums, and you will find that your carder becomes increasingly hard to crank if it is not removed on a regular basis. A long pair of tweezers helps with this (we used some that are also used to repair computers). Remember to direct your efforts in the opposite direction that the drum is turned to remove fibers that have wrapped around the shafts while in use. You may need to rotate the drums or make a few passes in order to remove all of the fibers in these areas.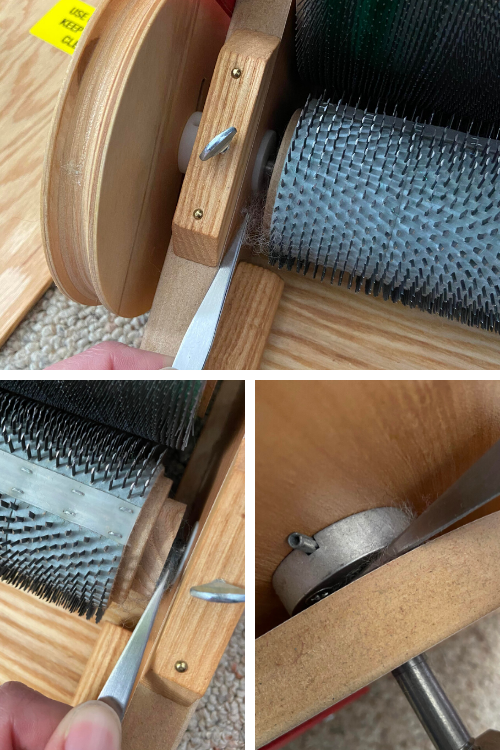 Cleaning Carding Cloth
There is no need to clean out fiber from the drum after removing each batt you make, but we do recommend doing this between each project or session, especially if you're changing the color of fiber you're working with.
Use the center portion of the Doffer brush to contact the curve of the large drum. Starting at the seam, swipe the Doffer brush down the drum in the same direction as the teeth on the drum. Continue across the width of the drum. Slowly rotate the drum backwards (counterclockwise) as you use the brush to clean the entire drum of fiber. Do not brush across the drum since the card cloth may become frayed.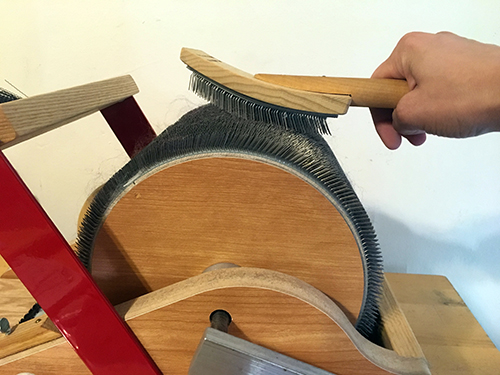 More Places that Fiber Accumulates
While the unique "Slicker-Licker" carding cloth on the small drum is designed not to hold onto the fiber, it will tend to grab shorts, second cuts and neps that you really don't want in your batt.
If there are any fibers stuck in the brush attachment, simply remove them by hand.


At this point, you may be impressed with all of the fluff and fiber you've removed from your carder – but don't throw it away! This fiber can be used to stuff pillows or toys, OR you can put them outside for birds who are building nests this spring!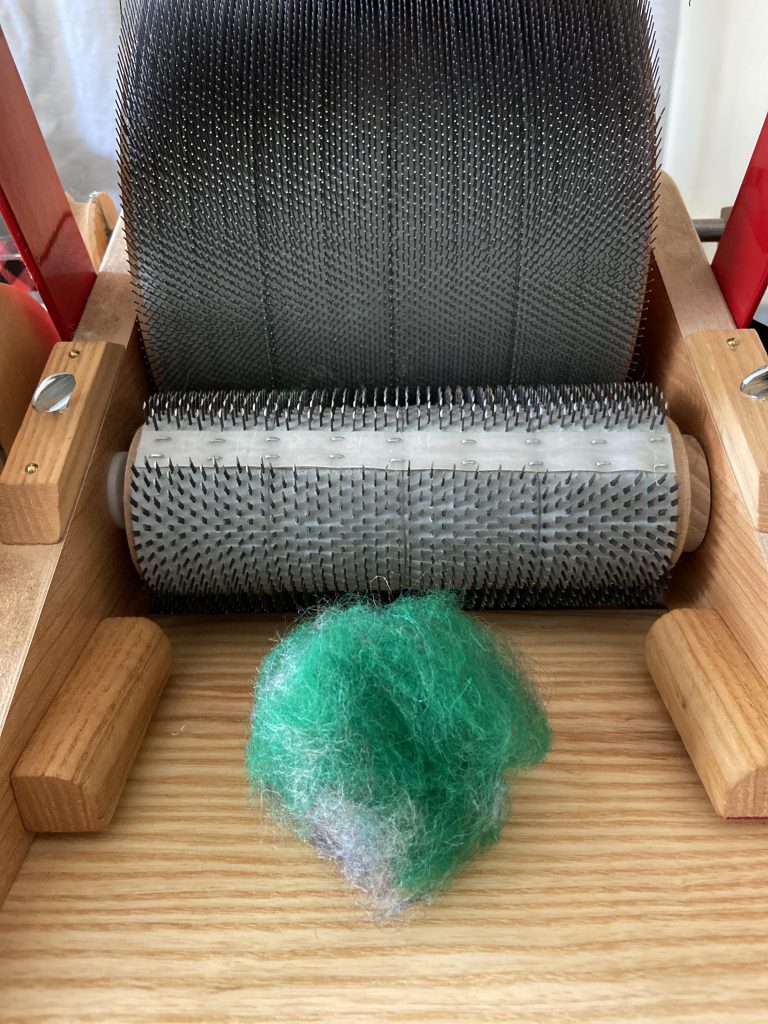 Finishing Touches
Last but not least, take the soft cloth and dampen it with a mild wood soap to dust off and clean all of the wood parts of your carder. Make sure that whatever you use is specifically designed to clean and nourish wood, and take care that your cloth is not sopping wet as you work (you don't want water to trickle into any areas where it could cause rust).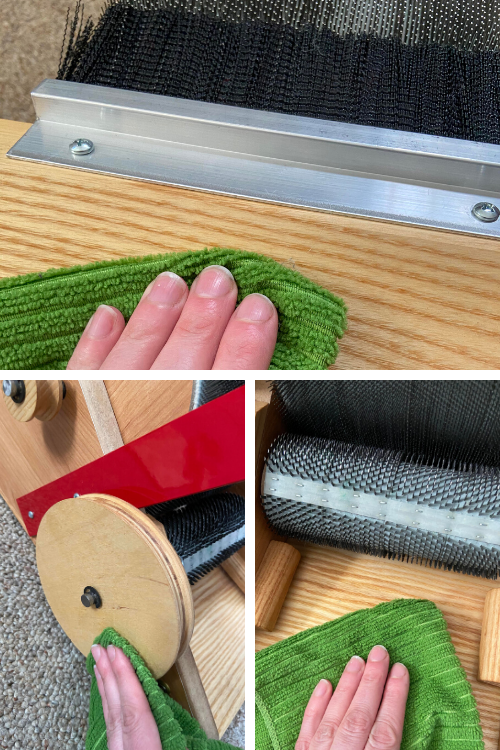 With just these few simple steps, your drum carder will look good as new this spring! For more tips on choosing, maintaining and using your Strauch Drum Carder, click here to download our free guide.
Like this post? Pin it!