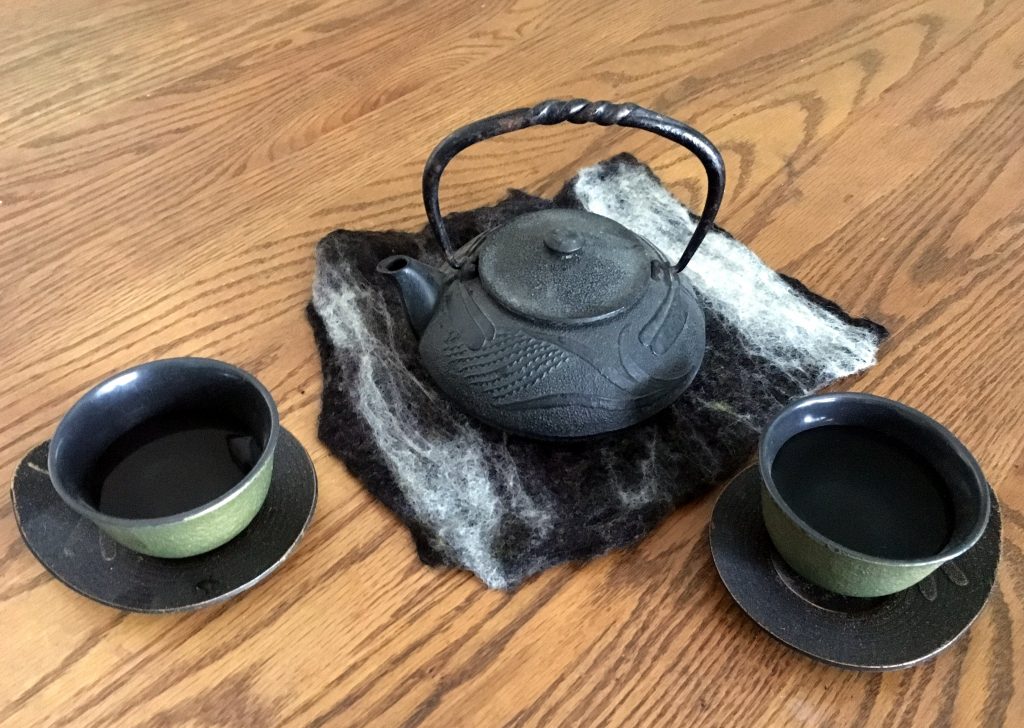 There's no need to let the summer heat deprive you of the fun of working with wool fibers! We have a fun project to keep your drum carder busy this month – just round up some of your favorite feltable fibers from your stash!
The idea for this project came from felted stones and hot pads (find some inspirational images here on Pinterest). This tutorial will teach you how to wet felt a faux "stone" hot pad or mat using just one batt from your drum carder.
For this project you will need:
1 ounce of dark base animal fiber – Our sample uses black alpaca.
.25 ounces of colored animal fiber – Our sample uses some heathered tweed fiber we made here.
2-3 locks of white fiber or other feltable add-ins
Drum carder – Our sample was made on a Strauch Petite.
Window Screen – Large enough to house your project and fold over it. You can get this at a hardware store, or from an old window.
Towel – Large enough to house your project.
2 -3 Rubber bands.
Warm, soapy water in a squirt bottle or measuring cup
Waterproof or protected work surface.
Getting Started
Begin by carding your dark base fiber and colored fiber together twice. This will give you a semi-homogeneous blend, much like a natural stone.
After carding the second time, leave the batt on the carder, and take the locks of white fiber (or other feltable add-ins) and add them to the carder. On this sample, we passed one lock on one half of the batt and two on the other half.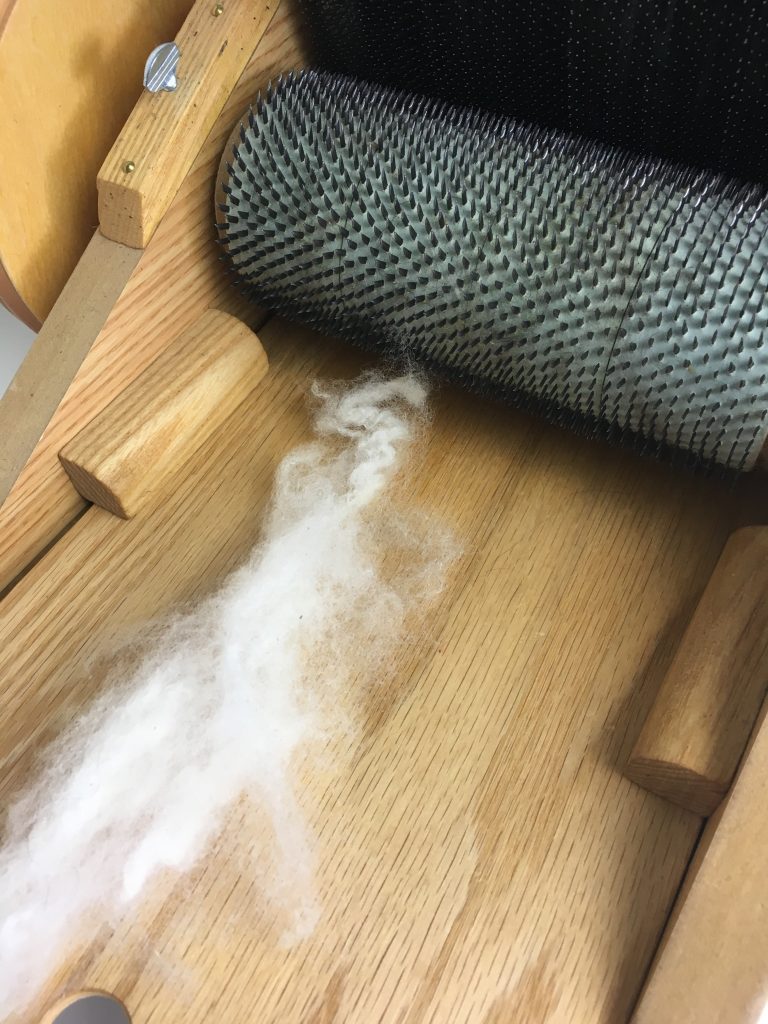 Now, remove the batt from your drum carder: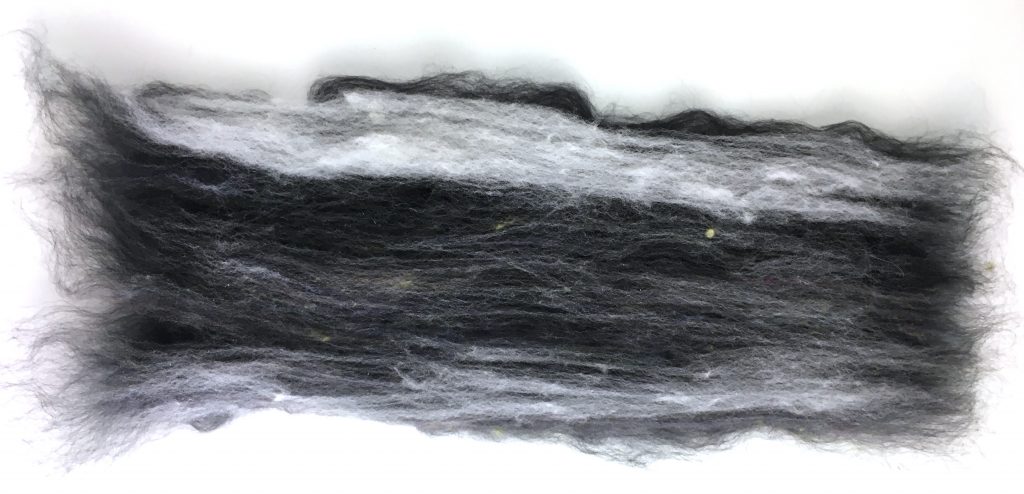 With the "white" side of the batt facing up, divide the batt into two equal pieces. They should look roughly like a square.
Then, turn one piece 90 degrees, and flip it white side down. Lay the other piece on top of this piece to create a "fiber sandwich." It's important that the direction of the fibers are perpendicular, as this will aid in the felting process.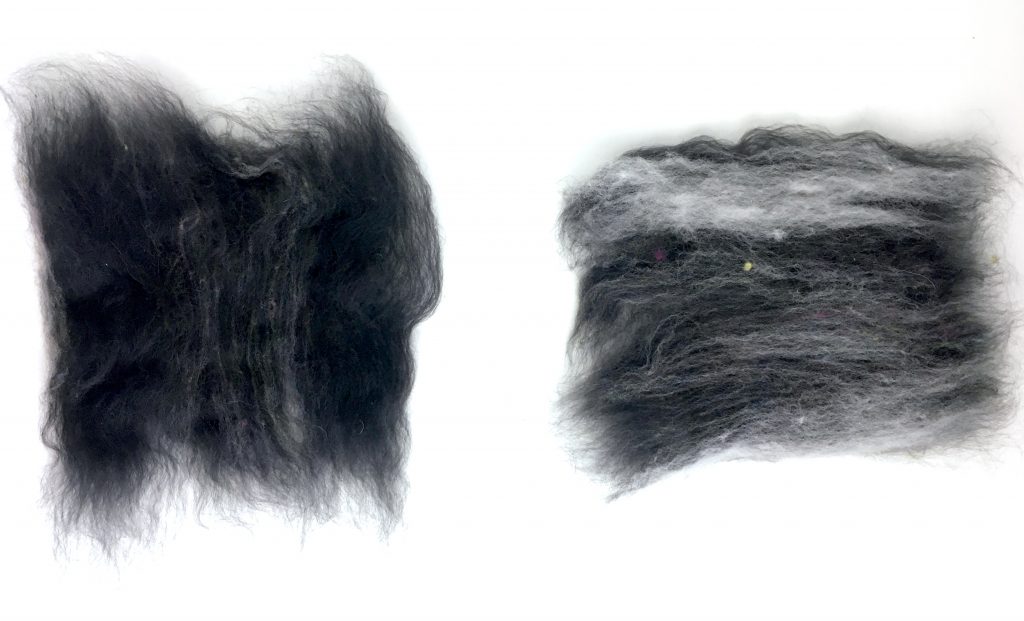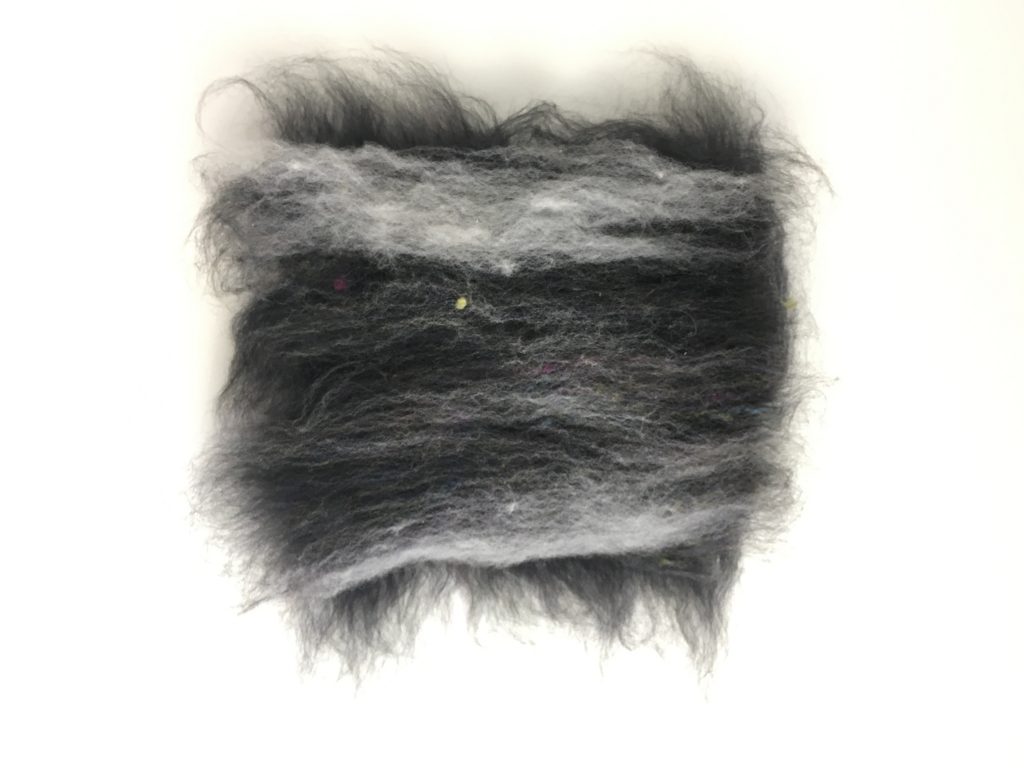 To begin felting, take a towel, and lay it on your work surface. Place the window screen on top of the towel.
Take your "fiber sandwich" and place it on top of one half of the screen, and fold the other half of the screen on top.
Wet the fiber down with your soapy water until the fiber is saturated but not soggy. Here's a great tutorial video to illustrate wet felting.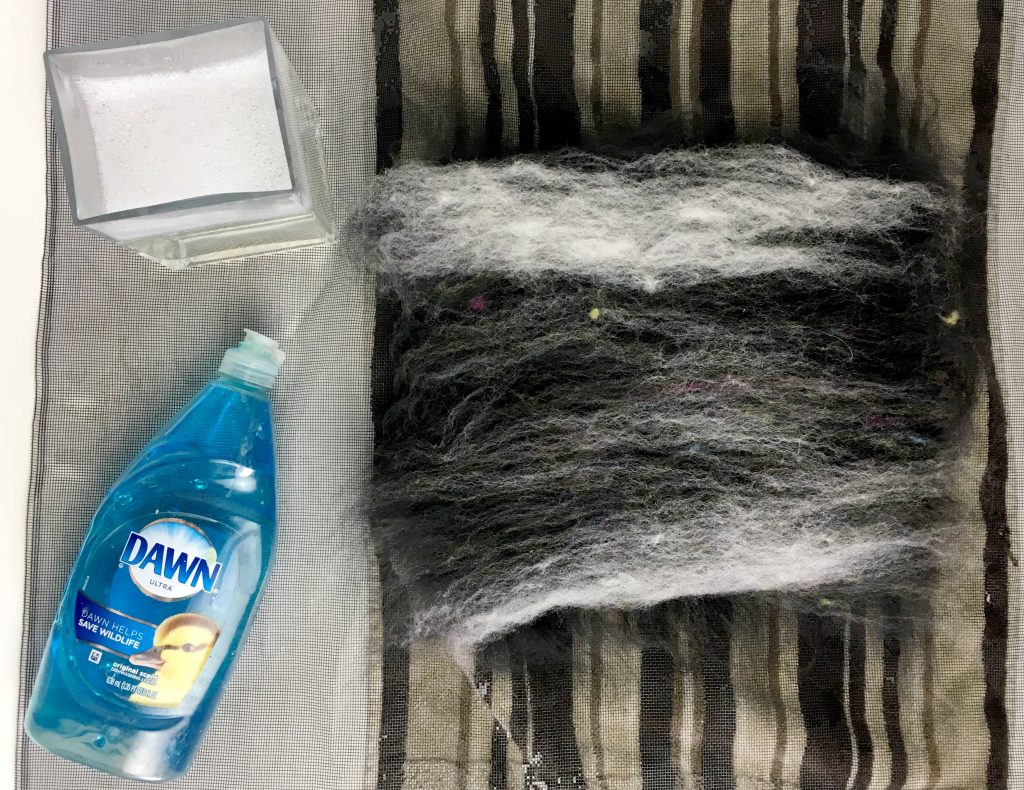 Next, use the towel to roll the screen and "fiber sandwich" into a firm log (similar to when you are blocking a finished garment and want to remove excess water by rolling it up into a towel). Place 2 or 3 rubber bands at either end to keep everything secure for the next step.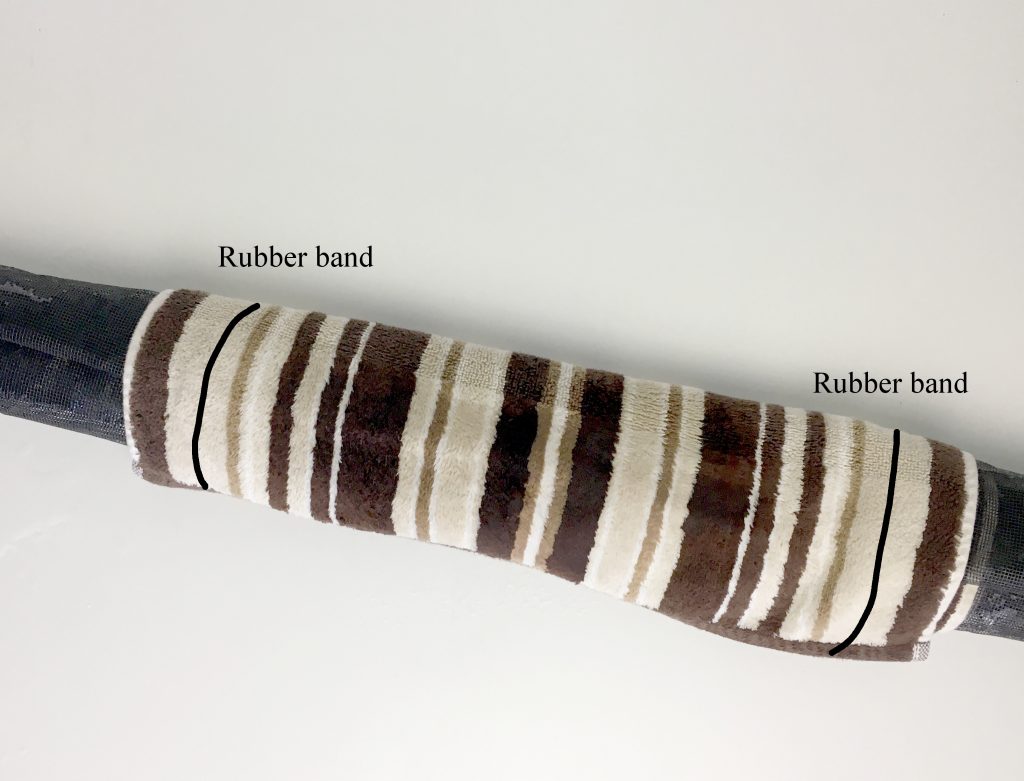 Roll this log back and forth vigorously for 2-3 minutes.
Next, unroll everything and rotate the "fiber sandwich" 90 degrees, repeating this process a few more times until it is as felted as you would like. For more even felting, you can also flip the "fiber sandwich" over a couple of times during the process, in addition to rotating it.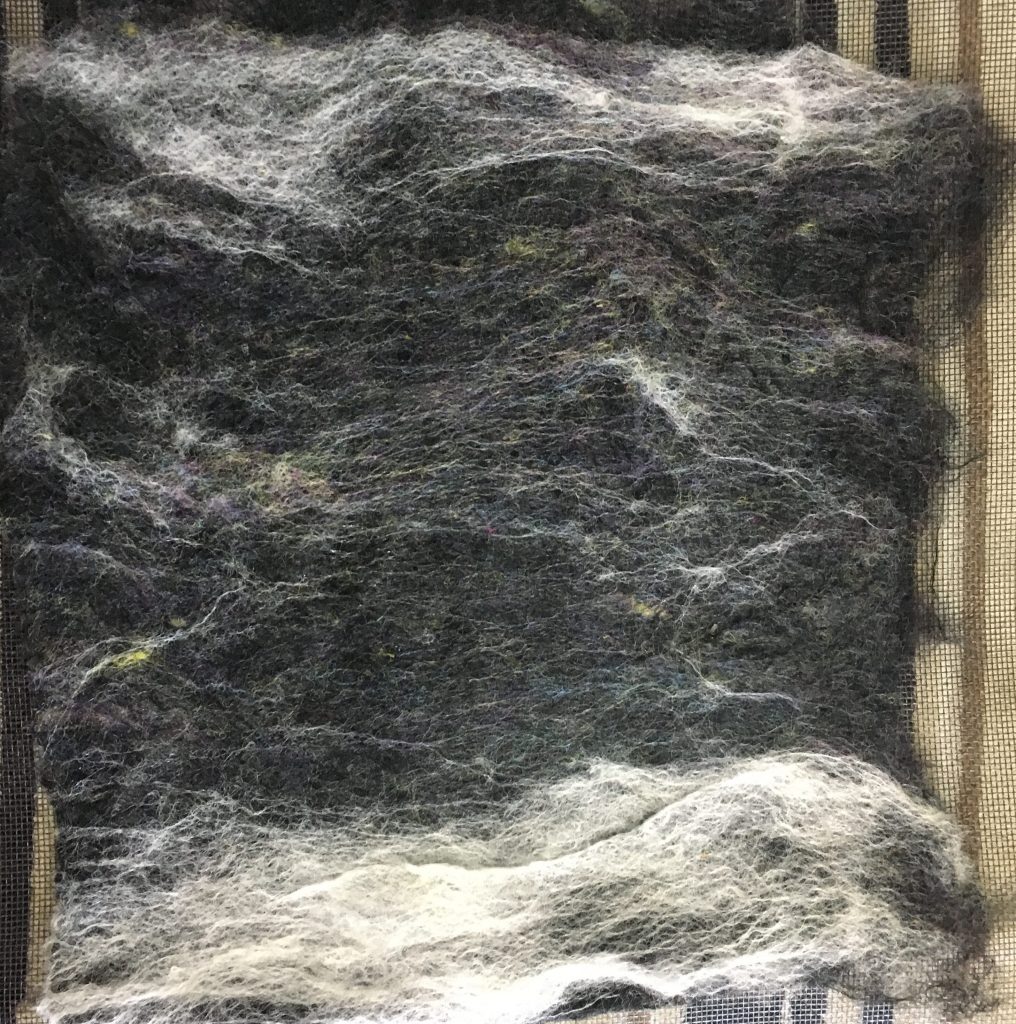 Once you are happy with the felted piece, rinse it in cold water to remove the soap and to set the felt in place.
This method results in a slightly wavy organic edge as shown in our finished piece, however you can trim the edges for a more even look.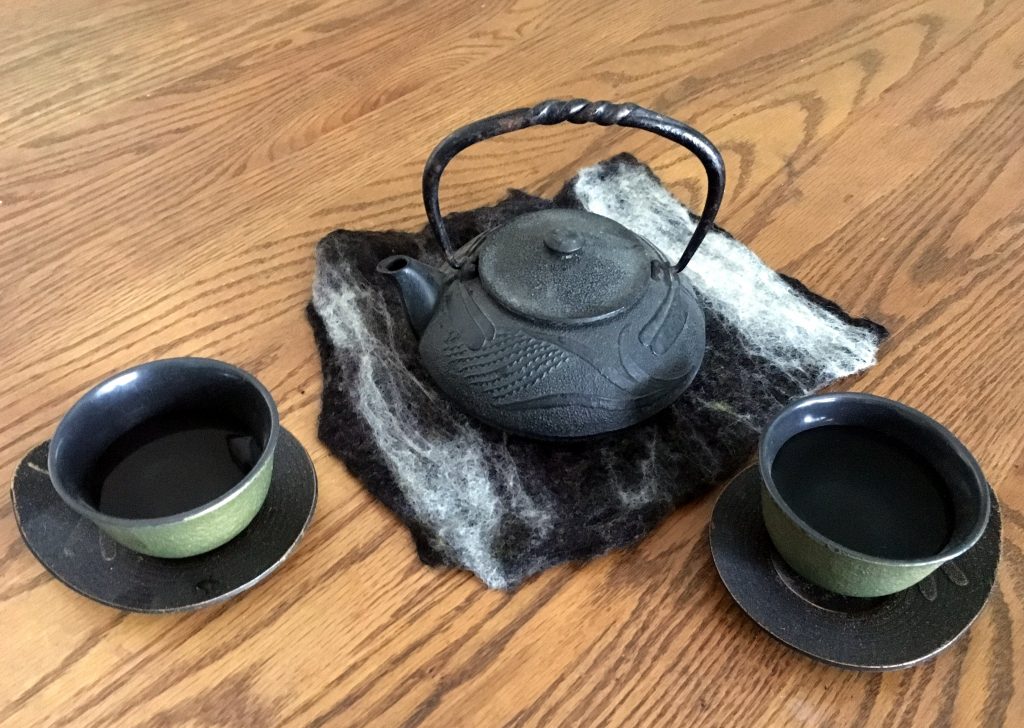 Use this as a centerpiece decoration for your table, a trivet for warm dishes, or folded over as a hot pad when handling pots, pans, or tea kettles!
If you use this tutorial to make your own felted stone mat, share it with us on Instagram using the hashtag #strauchfiber!
If you liked this tutorial, Pin it!