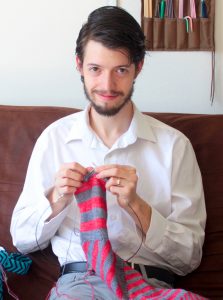 It's been a while since we've featured a fiber artist here on this blog, so we are pleased to share this interview with
Benjamin Krudwig
, a designer and fiber artist living in Colorado with his wife and two cats. He is drawn to nature, color, and all things fibery. His work can be seen in Spin-Off, Handwoven, Knitty, and other publications. Find him online at 
www.benjaminkrudwig.com
 and on Instagram
@benjamin_krudwig
.
How did you get your start in the fiber arts?
I've always been creatively inclined. I was always into something, pipe cleaner crafts, origami, painting, you name it. It wasn't until high school that I asked my older sister to teach me how to knit that I was introduced to fiber arts. I put it down (like many new knitters) and then in college, I picked up a crochet hook and taught myself how to crochet in order to combat test anxiety. It's all been down the rabbit hole since, with me picking up how to weave, spin, felt, etc. over the years.
What inspires you?
Honestly, the easier question would be what doesn't inspire me. Everywhere I look, something catches my eye. I think that's an artist thing. Even the littlest details and innocuous events can cause my brain to go into design mode. I take a lot of my inspiration from nature, especially from the naturally occurring colors and patterns.
How do you translate your inspiration into a batt?
First I start with the color palette (for example, greens and golds as seen in the photo below). This is generally the easiest way for me to grasp onto the core feeling of the inspiration. Then, I may add texture to the batt with different fibers to create more depth and interest to the batt. My "Newsprint Tweed" article in an issue of Spin-Off in 2017 goes through my entire process of trying to achieve a specific yarn by blending the base fiber and tweed additives.