If you've been following our Fiber to FO Blog series, you may be wondering what we would be making with our example project.  Today, we're pleased to reveal our Finished Object, a pair of handspun mittens!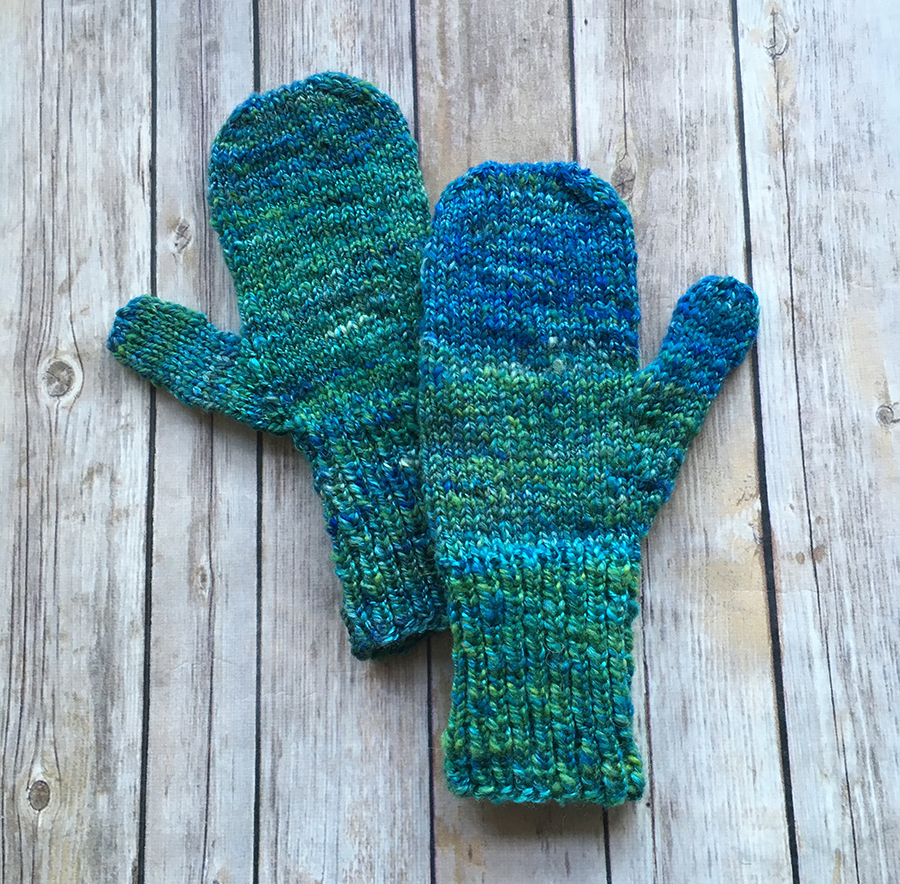 We used The World's Simplest Mittens pattern from Tincan Knits, a free knitting pattern available on Ravelry. What makes it ideal for handspun yarn is that this pattern is written for any weight of yarn, which means that you only have to choose the instructions that correspond with the weight of yarn you created.
Notice that our finished project are "fraternal" twins – that is, they don't exactly match in how they knit up as one mitten has a more pronounced green-to-turquoise gradation that the other. These natural variations are what make your project unique: because you carded, spun and knitted or crocheted it from start to finish, there will never be another item exactly like what you made! However, if you want to achieve more uniform results with your handspun yarn, we recommend alternating rows or rounds, just as you would when working with hand-dyed yarns (find an excellent tutorial on this technique here).
There are a lot of great patterns that are designed especially for handspun yarns, and just as many which would look great with a handspun yarn substituted in. Below, we share some of our tips for spotting ideal patterns for your handspun yarn and also share a few of our favorites (free!) designs to add to your queue.
Patterns: What To Look For
Written for multiple gauges. There are a lot of patterns which include instructions for multiple weights of yarn and/or gauges – these offer a lot more flexibility when you are trying to match up a handspun yarn with a knit or crochet pattern.
Simple stitches and construction. Especially for multicolored yarns, simpler stitch motifs and construction elements will let your handspun take the spotlight. That's not to say that you couldn't make a project with cables, lace or other stitches, but an overly complex pattern may get lost when paired up with a handspun yarn. When in doubt, swatch!
Recipes. There are many patterns available which are open-ended so that the knitter or crocheter can customize for the amount of yarn they have. Think of these as a road map, and know that you may need to do a little math or be vigilant with measuring your yarn as you go.
Buzzwords. Simple, basic, textured, classic, easy – usually, these words are associated with the type of patterns which are well-suited to handspun yarns!
Knitting Patterns Designed for Handspun Yarns
There are many great patterns available on Ravelry, but shown here are some of the most popular free patterns and recipes for knitters. Clockwise from top left: Handspun Cushion by Wovenflame, Handspun Shawlette by Jen Lucas, Bluemoon Cowl by Jillian Moreno, Handspun Fingerless Gloves by Emily Wessell, and Garter Vanilla Shawl by Welford Purls.
Handspun-Friendly Patterns
These free knitting and crochet patterns are a great way to put your handspun yarns to use! Clockwise from top left: The Age of Brass and Steam Kerchief by Orange Flower yarn, the York Crocheted Shawlette by Anastacia Zittel, the One Good Turn Crochet Cowl by Ali Green, and The Simple Collection from Tincan Knits, which contains 11 knitting patterns for accessories, blankets and sweaters written for multiple gauges – shown here are the Rye Socks.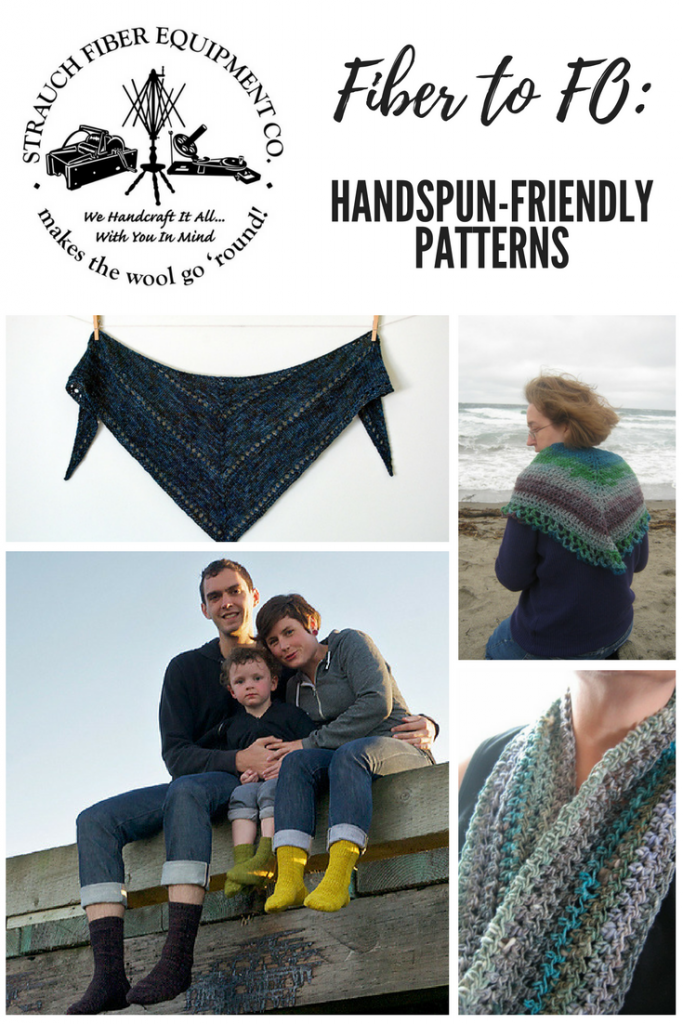 Find more great patterns for handspun yarns here on Pinterest. We'd love to see your projects over on Instagram, too – share your photos with #strauchfiber in the description!
Like this post? Pin it!