Most fiber artists rely on our products to save them time, whether it's through more efficient winding of yarn hanks on a swift and ball winder or speedily processing a large amount of fleece or fiber with a drum carder. Aside from speeding up these processes, each piece of our equipment is built to last with very little maintenance required – leaving you more time to craft without having to fuss or fiddle with your equipment each time.
Today we'll cover a few key routine maintenance tasks to keep ball winder and drum carder in tip-top shape!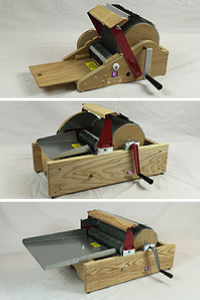 Drum Carders
In general, you won't need to oil your drum carder (oiling, and especially over-oiling, attracts
fiber and causes build-up). Should a squeak develop with the handle, apply a drop or two of
light oil (sewing machine or 20-wt. oil will do nicely) at the point where the crank shaft meets the
small end of the black handle. If you have a chain model, NEVER oil the chain.
You will need to periodically clean out any accumulated fiber from each shaft where it enters the
bearings. If this is not done from time to time, you will find that your carder becomes
increasingly hard to crank.
And, of course, you will need to use the Doffer/Cleaner Brush to remove residual fibers from the
carding drum when you are finished with a particular fiber or are ready to change colors. Use
the center portion of the Doffer brush to contact the curve of the large drum. Starting at the
seam, swipe the Doffer brush down the drum in the same direction as the teeth on the drum.
Continue across the width of the drum. Slowly rotate the drum backwards (counterclockwise) as
you use the brush to clean the entire drum of fiber. Do not brush across the drum since the card
cloth may become frayed.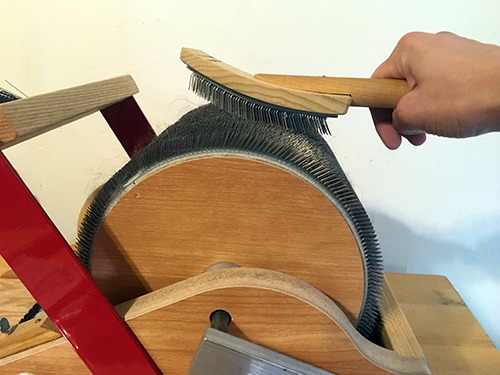 For more specific instructions for your particular model of drum carder, please refer to your operation manual (click here to download a PDF version from our site if yours has gone missing!). You can also check out these playlists on our YouTube Channel for maintenance tips and trick for each model:
New to drum carding? Click here to receive Drum Carding 101, our free PDF guide to help you get started!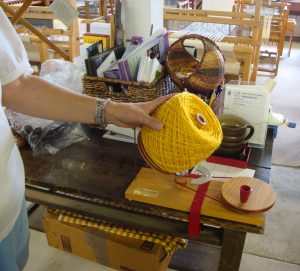 Ball Winders
With our ball bearing design, NO oiling or adjustments are needed, but we do recommend a few simple tasks to keep your ball winder in working order.
First, a good habit to get into once you're done winding your yarn is to remove the drive band from the crank disc each time. This prevents it from becoming stretched and loose, causing the winder to slip when winding a ball.
Next, you should occasionally check to make sure that fiber hasn't become lodged underneath the pulley – if you notice that your yarn balls are getting a bit sloppy, that is the likely cause. The good news is that it's very easy to fix – we show you how in the video embedded below:
And that's it! With just a little bit of TLC, you can enjoy your Strauch ball winder or drum carder for years to come.
Like this post? Pin it!