The PLY Away retreat is one of our favorite fiber events to kick off the spring season! Held in Kansas City, MO at the 5-star rated Westin Conference center downtown, this delightful venue is a fabulous setting to learn about & share the joy of handspinning yarn. We documented everything from start to finish to give you a behind-the-scenes peek at this popular event!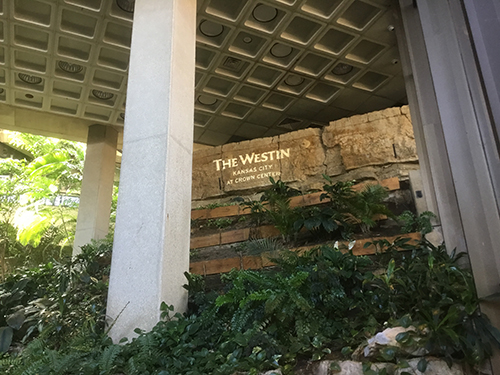 With such lush surroundings, you'd almost forget you were in the city!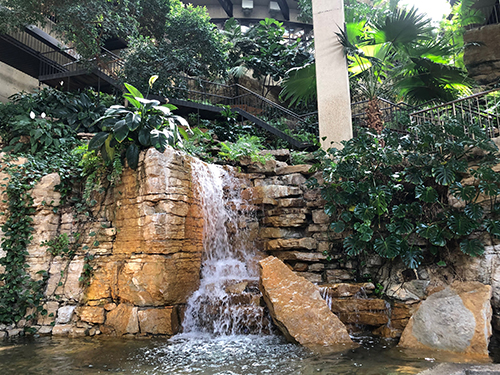 There are plenty of spots to sit down and relax.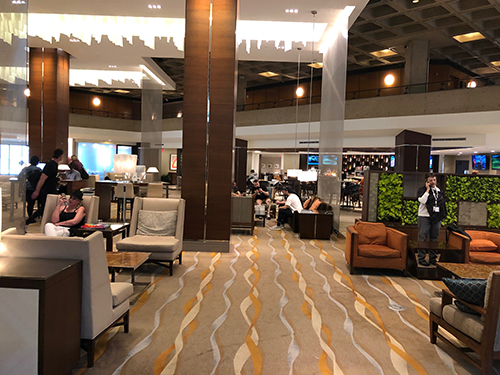 The illustrious editor of PLY Magazine, Jacey, is ready with a smile at the welcome table.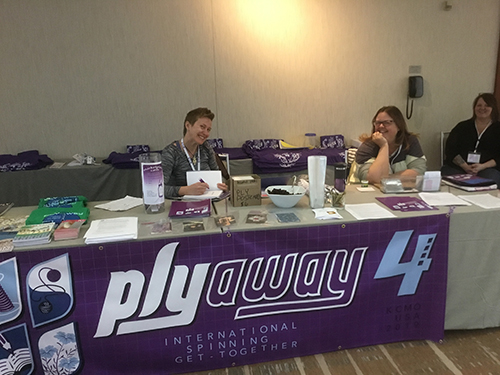 Meanwhile, the vendors start moving into the marketplace.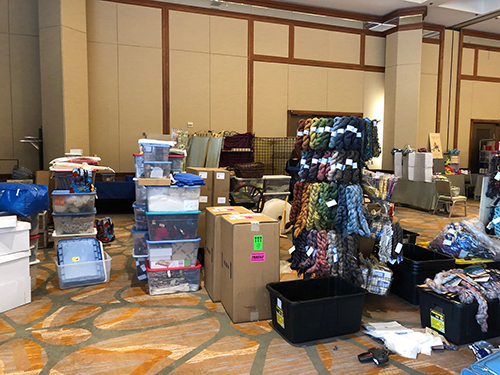 This year's marketplace was in a bigger space, which means that there is even more gorgeous yarn, fiber and equipment to tempt shoppers!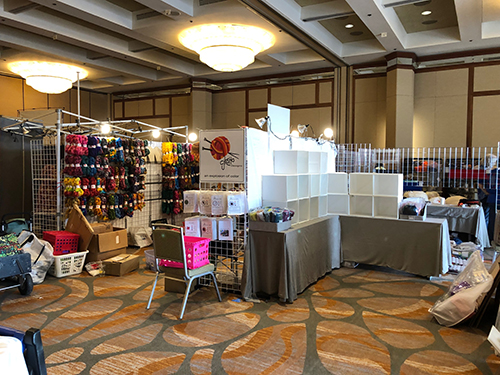 Here's a shot of our own booth in the midst of setup: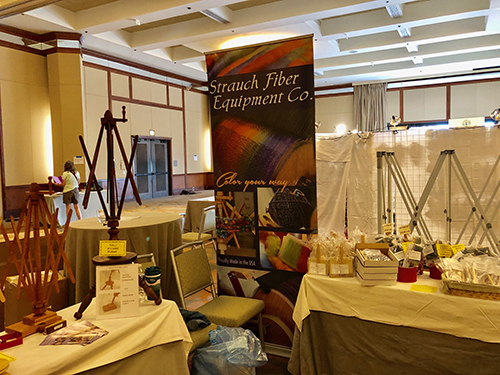 We can alway tell when class sessions are done – in comes a wave of excited shoppers!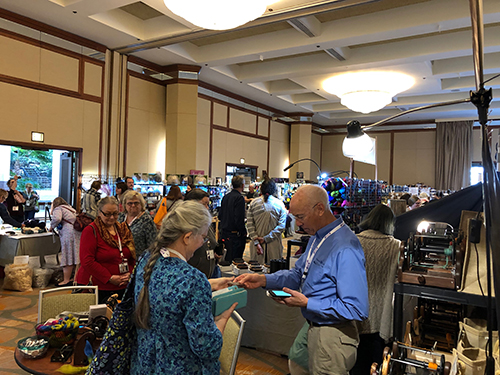 What we love about shows like these is the chance to learn from experts – here, Gordon Lendrum is chatting about spinning wheels with a shopper.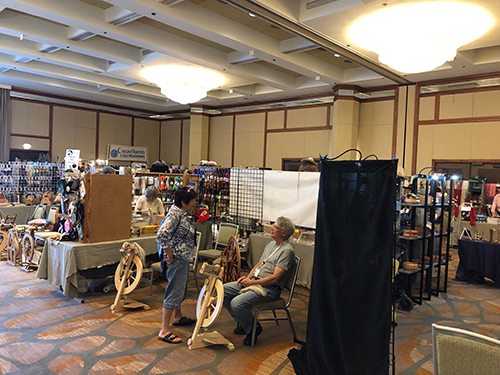 Remember all those cozy spots we mentioned at the top of this post? Now they're filled with knitters, spinners and all manner of fiber folk!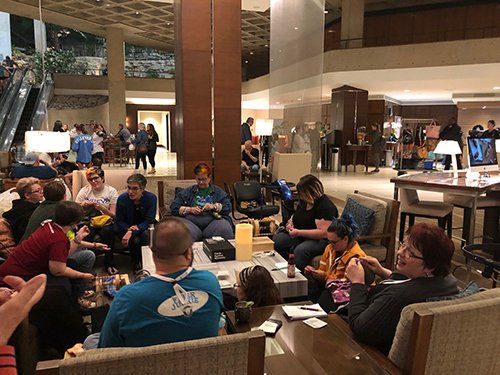 As Jacey is so adept at doing, she's organizing an after-dinner educational talk.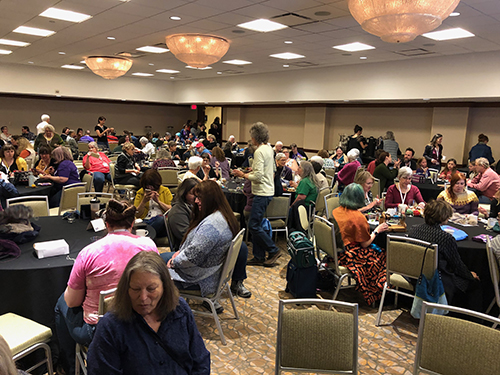 The keynote speaker, author, and wool whisperer, Ms. Clara Parkes, offers her insight into trends within the fiber industry.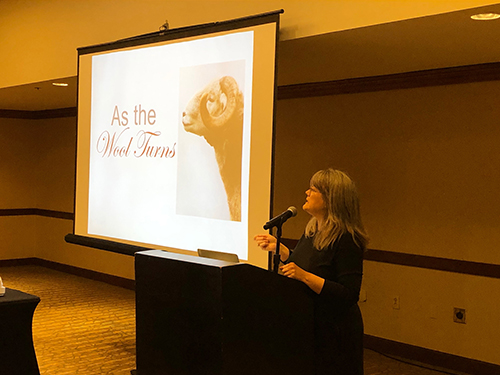 After a fun-filled event, it's time to pack everything back up and return home.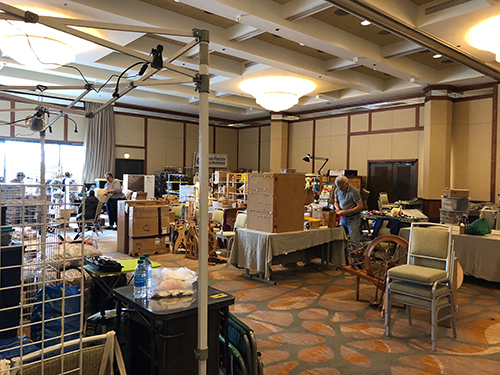 Our job was much easier, as much of what we brought found new homes before the marketplace closed!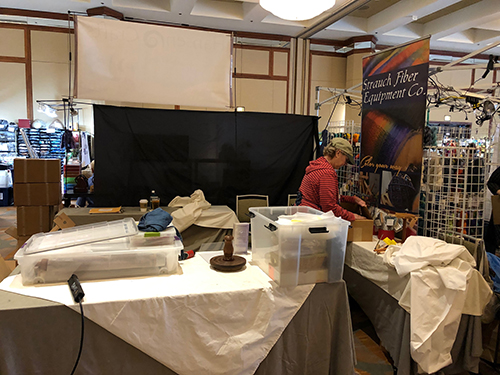 Until next year…..watch for the date!
Click here to see our full schedule of events for 2019; we look forward to seeing you soon!
Like this post? Pin it!