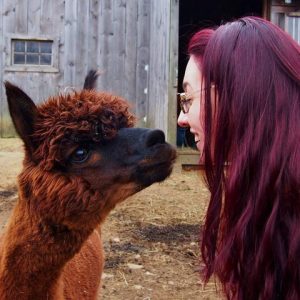 Since most fiber festivals and events are on hold for the time being, we're delighted when folks tag us on social media to let us know how they're enjoying their Strauch products.
When we saw that Amanda from the Classy Squid Fiber Co recently purchased a motorized Mad Batt'r for her small business, we reached out to see if she'd like to be featured here on our blog. We love Amanda's focus on natural fibers from a breadth of sheep breeds, camelids, and other fiber-producing animals – in fact, each batt never contains less than 50% animal fibers. The Classy Squid online shop is filled with all kinds of tantalizing batts, rolags and fibers, and you can follow her on Instagram @ClassySquidFiberCo for even more fibery inspiration.
We hope you enjoy getting to know Amanda in today's interview!
Q: How did you get started? What drew you to the fiber arts business? 
A: I'm enamoured of the idea of being able to do something completely from end to end. I tried to do this with my schooling, attempting a double-major in college with Computer Science and Electrical Engineering, but these are both enormous disciplines and I couldn't connect the dots from electrons all the way to computers and programs the way I wanted to. I'd been knitting and crocheting for a long time by that point, so learning how to make yarn, and finally how to process fiber straight from the animal seemed like a perfect way to get that end-to-end understanding I craved so badly. As soon as I held my first drop spindle and bundle of wool, everything clicked into place and I was hooked for life. 
As I started getting into spinning, I felt like spinners (vs those who work with already-spun yarn) were really underserved. Fiber artists I loved were constantly moving out of fiber to either close completely or go to only dyeing yarn, and if you wanted to plan a project like a sweater it was really hard to find a brand with interesting dyed fiber and blends in sufficient quantity. So I set out to build a business that was designed from the beginning to be long-lasting. Classy Squid Fiber Co turned 5 this year, with a crew that consists of 2 part-time employees, myself, and my husband (who designed and builds parts for our aluminum spindles). My dream is to expand even further, and someday make batts and rolags, not just combed top, something you can reliably find in local yarn shops across the country.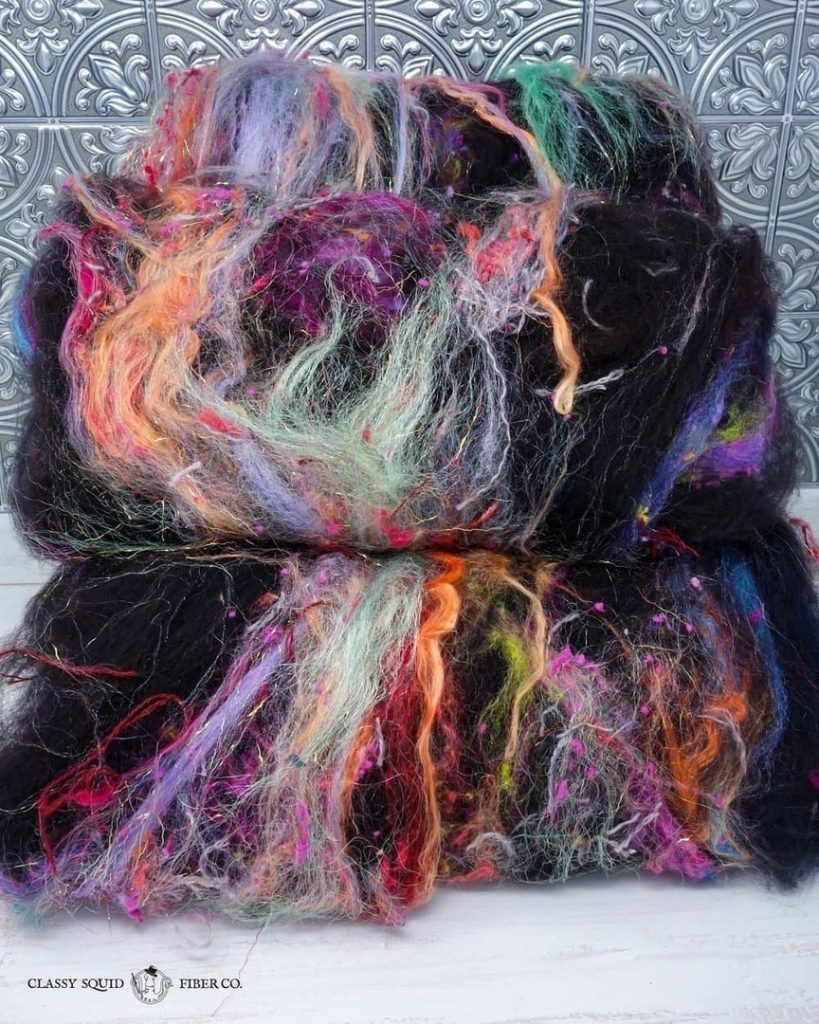 Q: What are your favorite fiber(s) to work with, and why? 
A: Wooly, non-superwash sheep's wool is my absolute favorite. It has spring, life, and character to it that superwash merino can't hold a candle to. 
The first batt I purchased and spun was beautiful, but hung limp and lifeless as a yarn. I didn't love it, and I was fascinated to find out *why*. That journey led me to many experiments and formulas, and the realization that I don't love superwash (especially merino), and including silk or synthetics above a certain percentage change the overall hand of the material in a way that doesn't appeal to me. The hallmark of Classy Squid batts is that, while including texture and sparkle and color, they should spin like wool, knit like wool, and wear like wool. We call it "true to the sheep". Most of our art batts are of the "gentle" variety, which means the texture is small and distributed, and spun yarns will be complex and interesting but also wearable in garments or other large products. We want to encourage spinners to use their gorgeous handspun and wear it with pride.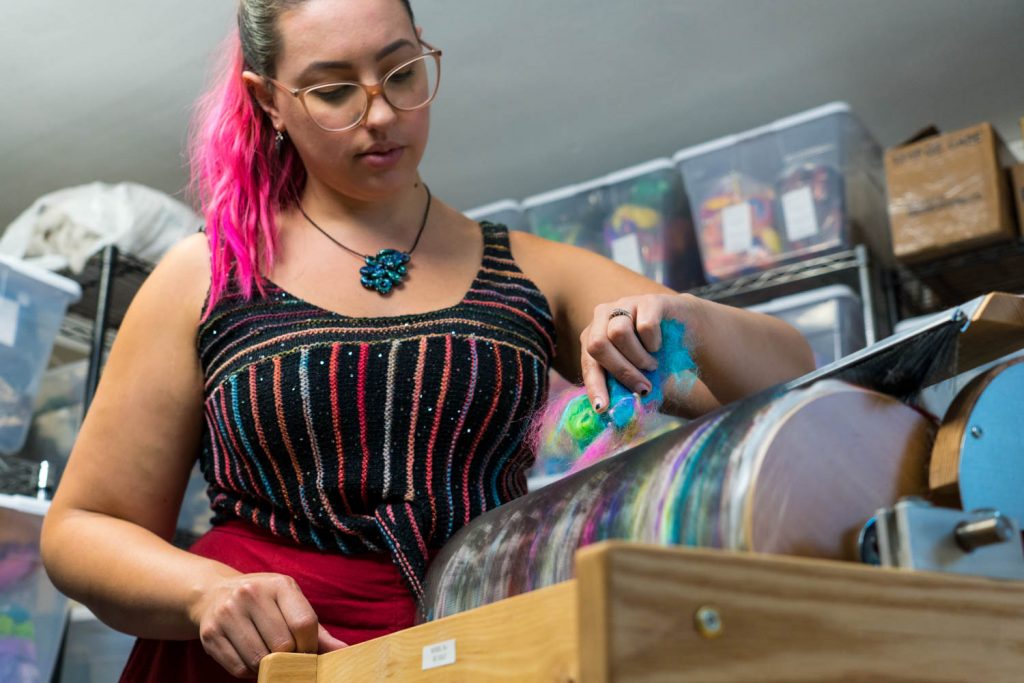 Q: What is the best advice you've ever gotten about fiber preparation in general (or, if you want to be specific, making batts!)
A: Experiment, and track what you are doing! There is so much variation possible, and with a few exceptions the "right way" to do something will depend on your end goal. I love really wooly preparations, complex tweeds, and subtle texture, and I've figured out percentages and recipes that work for me and my customers. Others may want to perfect pure 100% wool preparations starting from fleece with no nepps or noils, or they may want crazy texture, or out of this world sparkle and shine. 
Q: Tell us about your Mad Batt'r! Do you use any other Strauch products?
A: The motorized Mad Batt'r Doublewide is my first, but I don't think it will be the last! This is the third carder I've purchased for my business, and it is absolutely in a league of its own!
Things that really set it apart from other carders include:
The licker-in is MAGIC. I cannot calculate how much time I used to have to spend wrangling the fibers that were all trapped on other licker-ins, even when I would paint most of the texture add-ins over the top of the main drum. This doesn't clog up, and you can even feed texture elements like yarn scraps or silk noil or nepps through it: besides not tangling on them, it distributes those texture elements across the surface of the batt in the most amazing way. This is not only great for making the batt look good on its own, it also means the texture is trapped together with the longer fibers more securely, so it's less likely to fall out onto your lap as you spin.
The chain drive is a major improvement over belt-driven systems, especially for textured batts or when working with farm wools. My other carders would slip and lose traction all the time. There are a lot of things to pay attention to when you're carding with fine fibers, and the fact that this machine will just keep going no matter what means I can spend less time focused on whether the machine is behaving, and more on how the fiber is processing.
The Mad Batt'r makes a much more lofty batt than I was used to, which is fantastic for producing airy woolen yarns, which are what batts and rolags are all about!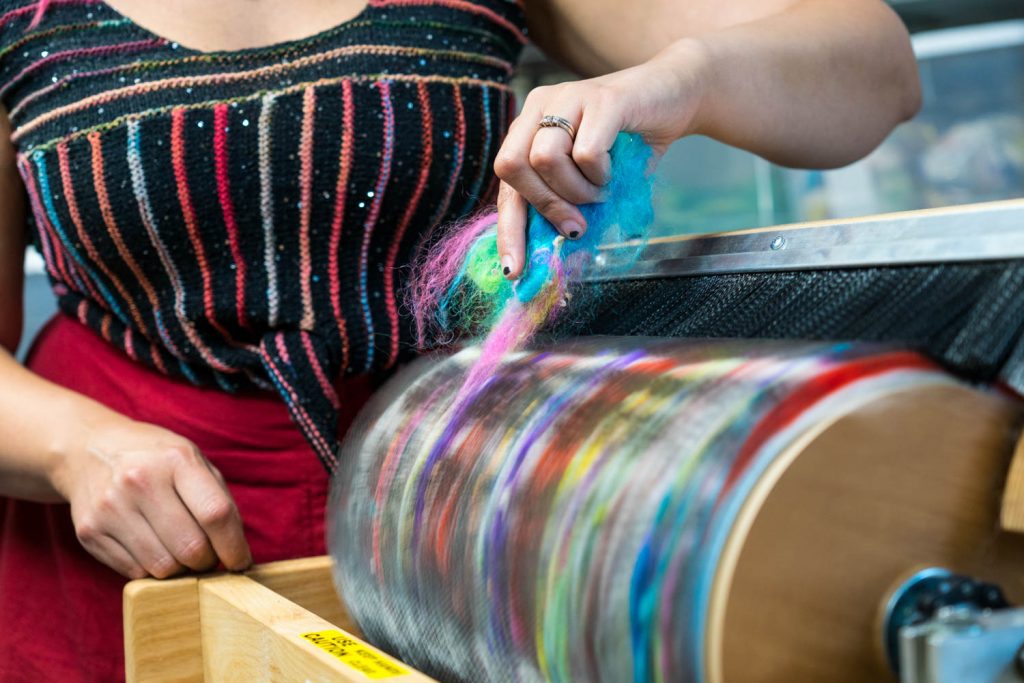 Get to know more of our makers – click here to read more profiles from our blog archive!
Do you use Strauch tools in your craft business? We'd love to hear from you! Email info@strauchfiber.com to hare your story with us, or share on social media using the #strauchfiber hashtag.
Like this post? Pin it!