For years, Mary Egbert has been selling our drum carders in her online store, Camaj Fiber Arts. Recently, she launched the Camaj School of Fiber Arts, an exciting new way for fiber artists to learn at their own pace in the comfort of their own homes. Mary offers a variety of courses to master drum carding and other fiber prep skills such as wool scouring and removing vegetable matter from fibers.
This month, Mary has launched a Drum Carding Workshop for beginner to advanced drum carder users, in which she uses her trusty Strauch Mad Batt'r. Mary is offering our readers $5 off their class registration – just enter DRUM at checkout! You can watch a preview of the course in the video embedded below, then keep reading to get to know Mary in today's interview.
Q: How did you get started in the fiber arts industry? How long has the shop been around?
A: I got started in this amazing fiber world with a starter herd of five alpacas back when I lived in Utah.  It quickly grew to 25 in a few years! I was so fascinated by their fiber and wanted to do everything there was to processing by my self. I read every book and blog I could find and watched tons of YouTube videos. Back then there were not that many fiber folks on YouTube and only a few books out on the subject and I learned by fire, trial and error. I learned to scour, dye, process and spin my alapaca fiber this way!
I started out spinning art yarns mostly because I did not have a strong fundamental spinning base and had spun over 100 skeins of yarn. That's when I decided to do local fiber festivals and sell my yarns. Customers loved them so I continued in my fiber journey and
Camaj Fiber Arts
was born. My shop has been around for about 11 years and has morphed into what it is today.
Q: What is your favorite Strauch product, and why?
Ohh that's a tough one, I love them all!  If I had to pick one, I adore the
Struch Mad Batt'r drum carder
. Even though it was built for art batts, it cards refined batts beautifully and it blends color amazingly well.  The licker-in cloth and the cloth on the main drum are so unique that virtually nothing sticks to either, when a batt is carded with good technique, that is.
Q: What gave you the idea to start the Camaj School of Fiber Arts?
This is an odd coincidence of a story. I have taught in person at fiber festivals the past three years and have been asked again and again to put my classes online for the many fiber lovers that were unable to travel. At the end of 2019, I decided not to travel in 2020 so I could focus on filming all the courses I have taught on the road and make them available to anyone wanting to learn. I also vowed to make the prices affordable so everyone was able to participate. Then this crazy pandemic hit and all the fiber festivals closed for 2020. My decision could not have come at a more opportune time, and the
Camaj School of Fiber Arts
was born!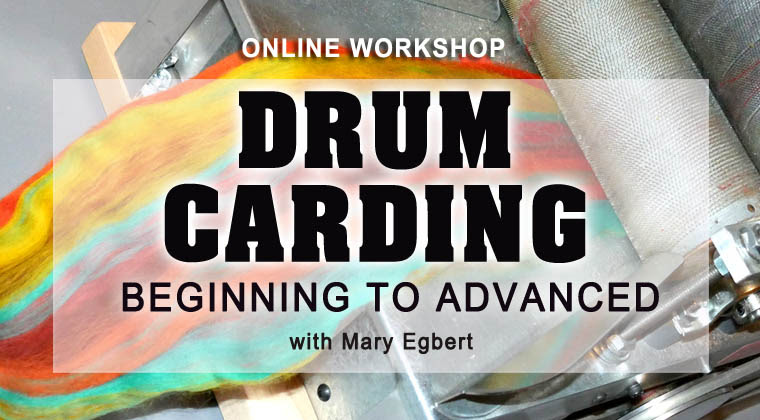 Q: What can students who sign up for your new drum carder class expect to learn?
They will learn everything, starting with what is a drum carder used for, anatomy, safety and proper use. We will discuss what TPI is and why it matters when blending fibers. I move onto wool grades, how it impacts the finished batt and how to use wool grades in your carding decision making process.  The student will learn the correct way to prep fiber to feed into the drum without causing harm to the drum mechanisms.
We then move onto toubleshooting the dreaded nepps in batts…how to make them and how to avoid them. Another topic we cover is why fiber builds up on the licker-in drum, why it's not a good thing and how to avoid it.
The student will learn how to blend colors correctly, make amazing art batts, how to make rolags on a drum carder, how to diz off a roving, how to remove a batt leaving almost no fiber on the main drum, how to card smooth batts from chunky wool locks and more!  I often say to new carders, if you are having issues carding it is often the cardee, not the carder. It is so important to have a good, strong foundation of carding fundamentals and technique to create the batts of your dreams.  This is what the student will walk away with when they take my new Drum Carding workshop.
Q: Is there anyone you would specifically recommend to take this class? (i.e. people who are brand new to drum carding, folks who want to level up their knowledge of fiber prep, etc.)
A: Yes!  All of them! If someone is new to drum carding this is a must! In a couple of hours this course will give them all the tools they need to start carding really well from the get-go. I've done all the research and years of trial and error and am here to share what I have learned.  Even someone who cards really well may take away a gem of knowledge that will take their carding to the next level.
Q: Are there any other classes you would recommend for Strauch fans?
Absolutely!  My course
How to Quickly and Easily Remove Embedded Vegetable Matter and Card Pristine Batts
is a must for any drum carder. Unless the carder is purchasing or growing fiber that is coated throughout the year, there will be vegetable matter in the wool. Knowing how to manage the overload with simple techniques prior to carding makes the pretties, cleanest batts. Spinning a yarn free of vegetable matter is such a delight, instead of stopping every couple of seconds to pick out hay or other earthy bits.
Of course, one should card wool that is clean and free of lanolin, that is where my scouring courses come into play. I also wrote a book on scouring called
The Art of Washing Wool, Mohair and Alpaca
that can help anyone that is either new to scouring or not getting consistent results with their current scouring techniques.
A drum carder is such a versatile piece of equipment and can be taken to places not many knew it could go. I hope this class helps people to drum card with more intention and foresight for more amazing outcomes each and every time!
Like this post? Pin it!