Although crafters can use their gifts to help those in need year-round, the holiday season is  an excellent time to search out more ways to make a positive difference in the world by donating handmade items where they are needed most. 
Last year, we blogged about an organization called Growing Peace in Afghanistan, where we sent one of our drum carders to be used by the women who process fiber for finished goods which support their families. In that post, we also shared some suggestions for charitable giving, and would like to share a few more with you in today's post!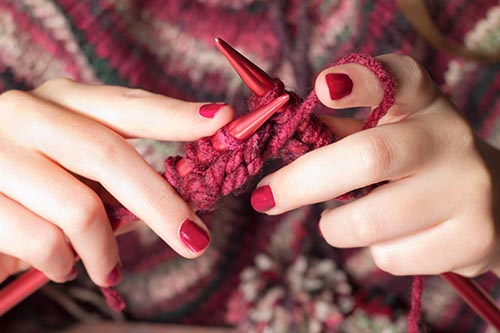 Your Community: While there are many national and international organizations doing good work, there's plenty that can be done in your immediate community – you just need to know where to look. A good start is to call local hospitals, shelters, nursing homes and even hospices to ask them about their current needs. They may have restrictions on types of fibers or care requirements for donated goods, so you'll want to make sure that whatever you are donating meets those conditions, otherwise your donation will be in vain!
I'm Not Lost: If you have a lot of hats, scarves and mittens and happen to live in a cold climate, this might be a good option for you. As mentioned here on the Mason-Dixon blog, you simply leave your handmade item in a public place (i.e. parks, outdoor shopping centers, etc.) with a small note that says it's not lost! Of course, there is no guarantee that a person in need will find it, but it's better than having it sit in a drawer or storage bin in your house, unworn.
Hat Not Hate: In 2019, the #HatNotHate campaign collected 23,117 blue hats to promote their anti-bullying message in schools throughout the US. While these donations do not necessarily target those in need of warmth, the positive message of spreading kindness is certainly worth supporting, don't you think? In 2020, their goal is to collect 100,000 hats – click here to find out how you can contribute.
Do you have a charity where you donate your finished handmade projects? We'd love to hear about it in the comments!
Like this post? Pin it!